Submitted by Ronnie Mills, Forrest General Campus Police
Summer is here, and the temperatures only go up from now until October in the Pine Belt. Already this year, 8 children have died of heatstroke as a result of being left in hot cars. Since 1998, over 600 child deaths have been attributed to heatstroke. These statistics are as heartbreaking as they are avoidable.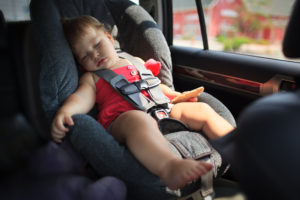 I am a father, and I remember the car seat days. You have a lot of stuff on your mind, and you're running around all over the place with lots of things to do. I have researched what I think are ways to help both moms and dads to remember your baby in the back seat.
Why not leave a child in the backseat for just a minute?
NEVER leave your child alone in a vehicle for any reason. (See why below)
Facts:
Vehicles can heat up very quickly to 114 degrees in 5 minutes; this is with the outside temperature at 82 degrees. Temperature can soar past 120 degrees in a matter of minutes. A child's body size means that their core temperature can rise 5 times faster than an adult's.
Safety tips:
Never leave your vehicle running with the air conditioner on, even if you lock the doors.  All a car thief needs is a hammer, and not only is your vehicle gone, but your child also.
Don't let children play in or around vehicles; always lock your doors and trunks.  Make a habit of looking in your vehicle – front, back, and around the outside—before locking your doors or backing out.
Ask your spouse call you after you drop off a child at a childcare center as a check.
Set a reminder/alarm on your cell phone, and place the phone in the back seat. This is an audible reminder and also prevents you from talking/texting on your phone while driving with your baby in the car.
Have your childcare provider call you if your child does not show up for childcare after a certain time.
Place a stuffed animal or pillow pet in the child's car seat. When you put the baby in the seat, take the stuffed animal out and place it on the front seat beside you as a reminder of the child in the back seat.
Women should place their purses in the back seat with their child as a reminder. Men place briefcase, laptop case, or backpack in the back seat.
Place a brightly colored sticky note on the dashboard as a reminder ("Baby on Board").
If you see a child in a vehicle with no adult around, get involved. Call 911 and save a child. If child is in distress or unresponsive, break a window (away from the location of child) to get child out. This is a life or death situation!
You most likely have your own ways to remember things you need to do. If you have a system and it works, you are already ahead of the curve. All you have to do is add "baby in the back seat" to your system. If no system, try the tips mentioned above for the safety of your child.